SOLUTIONS TO CONSIDER WITH EARTHCARE SYSTEMS
ECOCHAR
REC, LLC distributors of EARTH CARE Gasifier Systems & Soil Amendment Products
ECOCHAR SOIL AMENDMENT
We offer Carbon Rich Biochar (ECOCHAR) from Manure Biomass, Hog Compost, Wood and Duck Manure. Its unique characteristics will enhance soil properties and plant growth
We also offer ECOCHAR from other feedstock sources such as Grasses, Grain By-Products, Distillers Grain, Beet Hulls, Rice Hulls, Nut Shells,, Etc.
Our Professional Strength Soil Energizer "VITAL FORCE" is offered in 3 different mixtures which are as follows:
Professional Strength Soil Energizer
Flowers "N" Fruits & More Ferilizer
Roots "N" Shoots & More Fertilizer
Subject to a soil sample, we will consider mixing a formula to meet your needs.
See on "VITAL FORCE" for additional information.
VITAL FORCE with ECOCHAR
REC, LLC distributors of EARTH CARE Gasifier Systems & Soil Amendment Products
HEMP GROWERS ...Go Organic & Healthy
"MAKE YOUR PLANTS BETTER"
All Natural Highly Concentrated, Sourced in a Sustainable Protocol
VITAL FORCE SOIL ENERGIZER is power packed with the ultimate formulation of ingredients. It is designed to turbocharge any soil situation, resulting in healthy fertile soil and vibrant, productive plants.
Top Dress Nutrients / Eco-Friendly Fertilizer - Achieve the results you want as an amateur, professional or master gardener. If you want to grow like the best, (depending on the application), one of the VITAL FORCE mixtures is the right product for you.
VITAL FORCE is committed to the recycle and reuse of a wide range of naturally sourced ingredients into these and other VITAL FORCE products that would otherwise gone to waste. By using these and other VITAL FORCE products, you are partnering with us to create a greener, more sustainable future for you, your children and all of us.
Vital Force is a line of all-natural products that contain 40% Ecochar, along with other natural, nutritional ingredients, and are formulated to be balanced fertilizers. These formulas are adjusted to provide the proper nutrition levels for different applications. All fertilizers are categorized by NPK content, but Vital Force goes beyond the basics and provides other trace materials essential to plant growth. Each Vital Force product offers a different range of benefits to your soil and plants:
Soil Energizer - Contains not only the nutrients and minerals required for healthy soil, but also a high microbial content to increase biological activity. In addition, Soil Energizer is used to encapsulate containment metals from the soil. With the most plant growth ingredients, Soil Energizer is is the best way to give your plants an advantage from the start.
Roots 'N' Shoots & More - For use during initial planting, this provides what plants require for rapid growth of stems and roots, resulting in bigger, healthier plants.
Flowers 'N' Fruits & More - For use when plants are nearing the flowering/fruiting stage, this provides what is needed to produce large, healthy blooms and fruits.
...more>>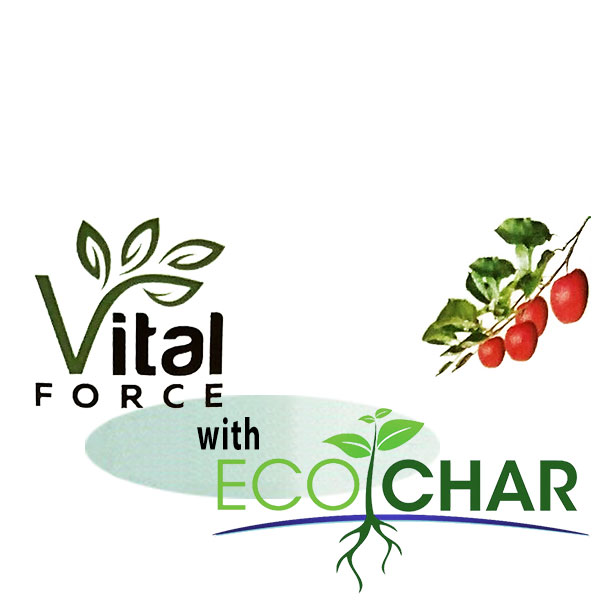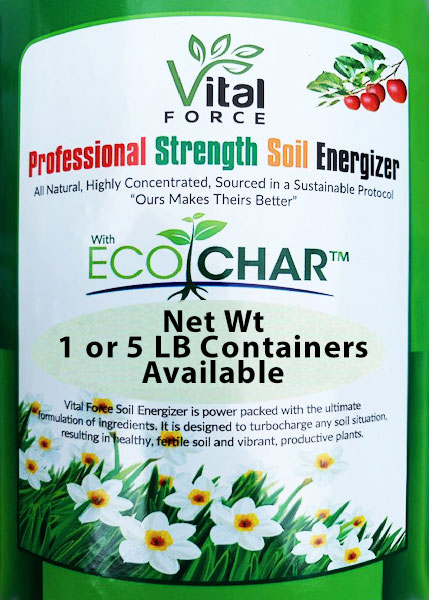 EARTHCARE OFFERS A MANURE / BIOMASS GASIFIER & DRYER PROCESSING SYSTEM TO PRODUCE ECOCHAR
...Environmental improvements that can be realized when operating our Gasifier Processing System and when applying the end product - ECOCHAR

WE ARE GLAD TO LIST THE FOLLOWING POSSIBLE ENVIRONMENTAL SOLUTIONS FOR AGRICULTURAL APPLICATIONS such as ALL TYPES OF FEEDSTOCK

ENVIRONMENTAL GASIFICATION SOLUTION for all MANURES & FOOD / ANIMAL / POULTRY PROCESSING PLANTS REJECTED SOLIDS & BIOMASS BY-PRODUCTS AS WELL AS FOOD BY-PRODUCTS:

* GASIFIER / DRYER PROCESSING SYSTEM
    - Gasifier:
        Up to 50 Tons / Day – Based on type of feedstock
    - Dryer
        Tonnage / Day depends on type of feedstock & moisture
content
* PRODUCES ECOCHAR
* PROCESSES MOST REJECTED SOLIDS
    - Lagoon sludge
    - Municipal sorted garbage
    - Rejected products from processing plants
Food / Poultry / Beef / Swine / Grain / Sugar Beets / Distillers Grain / Tea / Coffee
    - Municipal water plant sludge
* PRODUCE HEAT
    - Hot Water
- Hot Air
* PRODUCE ELECTRICAL POWER
- Steam Turbine Generator
    High Pressure Steam
- ORC Generator
    Hot Water
ENVIRONMENTAL ECOCHAR SOLUTION for POULTRY HOUSES:

* CONTROLLING AMMONIA
    - Reduces use of fans
* CONTROLLING MOISTURE
    - Eliminates hard crust on bedding
* IMPROVE BIRD`S HEALTH
    - Healthier feet
* IMPROVE GROWOUT PERIOD
    - Probable weight increase
* IMPROVE ODOR CONTROL
* DRIED MANURE / LITTER RE-USED FOR BEDDING


ENVIRONMENTAL ECOCHAR SOLUTION for SOIL:

* SOIL ENHANCEMENT
- Slow Release
- Absorbs metals in soil
- Absorbs Phosphorous
- Non-Leaching
- Replace Peat Moss
- Free from: Pathogens / E-Coli / Growth Hormones / Residues
         - Improve Soil Fertility
- Retains Nutrients & Moisture

* IMPROVE SOIL QUALITY
    - Activates microbes in soil
    - Decrease use of chemical fertilizers after 2 to 3 years
    - Absorbs Metals / Phosphorous / Etc.

* IMPROVE PLANT QUALITY
- Size
- Increase yield

* IMPROVE WATER QUALITY
    - Purification
PELLETIZING SYSTEM
- New 3 Ton / Hr.
- Modular
- Containerized
- Used Systems
SHREDDER
- New Individual Shredders - Horizontal / Vertical (Hopper)
- New Chippers
- New Landfill Separator Systems
- New Truck Loading Systems
- Used Shredders