EARTHCARE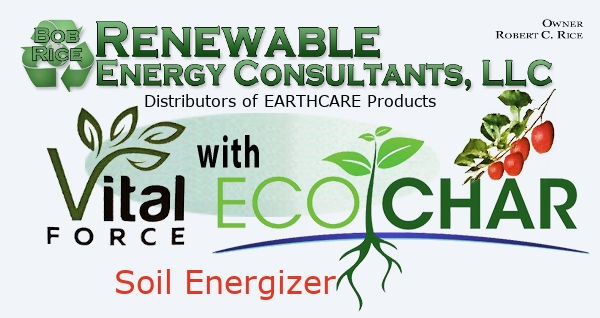 Earthcare addresses waste disposal and facility energy needs, allowing business owners to concentrate on their core business expertise. Earthcare's gasification systems can produce heat, steam and/or electricity as desired, as well as Ecochar (our trademarked biochar product), and are designed to fit the host site's needs. Depending on the application, a portion of the thermal energy may also be used to dry moisture-laden products (waste grain, vegetable residue, high-moisture manures, etc.), making them easier and less costly to transport or use for fuel. Our gasifiers are extremely versatile and are able to operate using a variety of different fuels, while remaining a carbon negative solution for your business.
We offer Soil Enhancement Products as follows:
ECOCHAR
ECOCHAR is a revolutionary Bio-Char made from a wide range of sustainable recycled Farm Waste Materials, such as Manures of all types, Forages. It is also derived from other sources such as Distiller Grains and By-Products from Animal Processing, Municipal Waste, Mushroom Growers, Nut Shells and Rice Hulls, etc. We also process By-Products from Wood Processing operations, however they do have a much lesser nutrient content than the other By-Products mentioned above.One big advantage of our ECOCHAR over other types of Bio-Char, like that made of wood is the inherent high nutrient content.
ECOCHAR is basically a natural product produced by processing the above By-Products through our Gasification System.
ECOCHAR is applied where needed for specific applications, mainly based on soil samples and plant analyses.
VITAL FORCE

VITAL FORCE has a unique customized blend of ingredients that provide distinct functions to take soil and improve it to another level. It is offered in 3 different grades that are combined with ECOCHAR and Microbial additives in specific amounts for each separate application.
These mixtures are designed and engineered to provide an enhanced level of nutrients for plant growth and development. It is designed to provide a baseline of specialized nutrients required by plants during the transition to the flowering / fruiting stage. Special mixes are available upon request.
The 3 different grades are as follows:
SOIL ENERGIZER:
Ingredients are designed to improve and promote the biological activity of any soil to a level that optimizes the function and fertility of the soil, which in  turn helps insure that plants grown in the soil have the best opportunity for lush, vibrant, healthy growth and for optional yields and best quality. Designed to work with whatever soil situation you may encounter, which is why we say, "Ours makes them better".
Our application charts list the mixture needed when utilizing with ECOCHAR, FLOWERS & FRUITS and ROOTS & SHOOTS grades.
ROOTS & SHOOTS & More:
Provides a baseline of specialized nutrients required by plants during the early growth phase prior to the initiation of flowering. This is also for plants that do not produce flowers and/or fruits, such as leafy greens and root vegetables. This grade can continue to be used up to harvest. Our application charts list the mixture needed.
FLOWERS & FRUITS & More:
For plants not already in flowering phase and is designed to provide a baseline of specialized nutrients required by plants during the transition to the flowering / fruiting stage. Our application charts list the mixture needed at planting / transplanting according to label rates.

Bob Rice / REC, LLC