Energy, soil tilth improvement, odor, contaminated runoff, solutions!
Gasification — Energy-Based Environmental Solutions Gasification Produces Heat, Steam, and/or Electricity from a Variety of Biomass and Other Fuels

We are a REPRESENTATIVE for EARTHCARE, LLC
MANURE / BIOMASS / REJECTED SOLID FEEDSTOCK GASIFIER PROCESSING SYSTEM
Processes all types of manures, food, wood, rejected solids, processing plant by-products) Dries & thermally processes agricultural & other type biomass / manure such as dairy manure, hog manure, poultry litter, egg layer manure, distillers grainss, spent mushroom substrate, lagoon cleanout, bird mortality disposal, food processing by-products, wood and construction by-products, water treatment plant biosolids, municipal by-products, animal & poultry processing plants by-products, crops & crop residue, water purification, forest management biomass & urban green by-products
Produces heat for:
Dryer & Boiler to produce hot water or steam heat to drive Steam Turbine or Hot Water ORC Generator System
REC ALSO OFFERS: Low Speed Shredders, Fuel Storage and Transfer Systems, Material Handling Equipment, Moving Grate-Multiple Fuel Biomass Boiler
Our environment often offers us an array of earth friendly energy solutions and options. With a solid plan, one will often find a long-term cost savings solution. These creative solutions are the essence of Renewable Energy Consultants, LLC. Let us know your industrial, commercial or domestic goals, together, we will optimize your best renewable energy resource.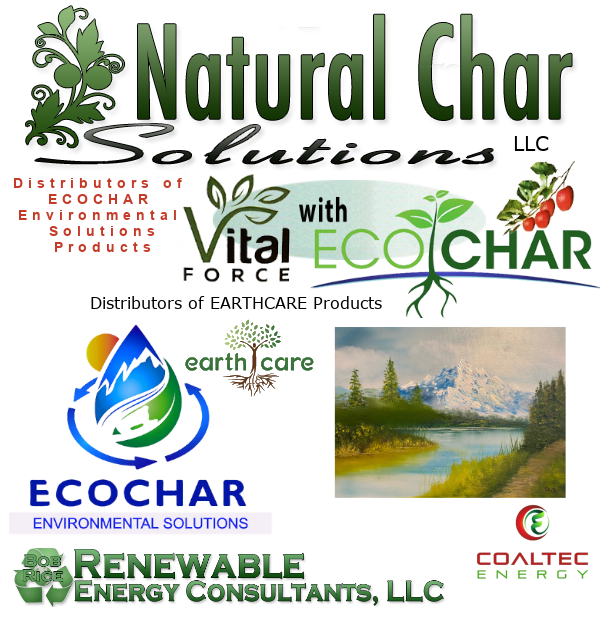 EARTHCARE offers a Soil Amendment - ECOCHAR and a Natural Fertilizer - VITAL FORCE.
ECOCHAR is produced from our Manure / Biomass Gasification Processing System that processes the manures, by-products from animal and food processing plants and all types of vegetation such as wood, switch grass, cord fodder, etc. to produce various grades of Biochar (from wood & vegetation by-products) and ECOCHAR (from manure & food by-products). In applying the ECOCHAR to poultry houses we eliminate the ammonia, making the birds healthier, increasing their growth weight as well as possibly shortening the grow out period. One way that we help reduce the overall costs for the grower is that the fan activation is considerably lessened due to the decrease of ammonia, thus electrical costs are at a minimum.
VITAL-FORCE is derived from mixing ECOCHAR with other natural additives to form a fertilizer with many more microbes. All VITAL-FORCE mixtures for soil applications are conformed to the soil sample results. We are very concerned about the quality of the soil resulting in the increase of their plant quality and yield as well as the quality and health of all animals and human beings.
In applying the ECOCHAR & VITAL-FORCE to the soil, we absorb the phosphorous and encapsulate the metals out of the soil and allow the microbes to be activated and retain the moisture. Within 2 to 3 years of applying ECOCHAR or VITAL-FORCE, the use of chemical fertilizers is greatly reduced, if not eliminated. A natural soil condition also leads to much less use of chemical pesticides and herbicides, if needed at all. For water purification, either can be applied. The complete process leads to a cleaner environment with respect to the elimination of contamination and acidity in the soil caused by the spreading of manure, etc. and chemical type products. The application of ECOCHAR & VITAL-FORCE to the soil, water and basic applications, (streets, etc.) greatly reduces, or eliminates contaminated runoff.
A healthier soil produces healthier plants and healthier nutrition for human consumption. This also enhances the health of all human beings as well as all animals and birds.
ENERGY & SOIL CONSULTANT: Please contact Bob Rice with Your Goals ...Bob excels at energy, soil tilth improvement, odor, contaminated runoff, solutions!